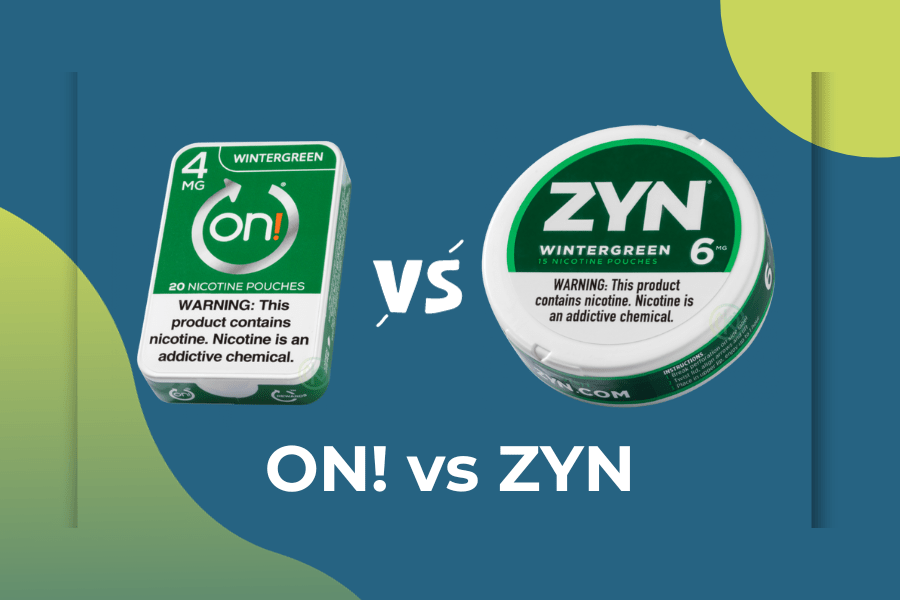 On! vs ZYN
With so many different nicotine options to choose from, it may be hard to decide which nicotine pouch is best for you. In this article we're going to introduce you to two of the most popular brands on the market and provide a brief comparison to help your decision.

A Summary of On! vs ZYN
Overall, both brands are very similar, and a lot of which brand wins the On nicotine pouches vs ZYN face off will be down to personal preference. It will come down to your preferences on strengths and flavors mostly.
To help you out in deciding which is the right pouch for you between On vs ZYN, here are some of the basics facts about each brand.
An Overview of On! Nicotine Pouches
On! nicotine pouches offer a tobacco-leaf-free alternative to traditional tobacco products and is a recognized brand in the nicotine pouch space. Their range of nicotine pouches come in seven different flavor varieties: Wintergreen, Cinnamon, Coffee, Berry, Mint, Citrus and Regular. Each On! nicotine pouch can contains 20 individual pouches which are available in five different nicotine strengths: 2mg, 4mg, 6mg and 8 mg.
To use one of the On! nicotine pouches, simply place one of the pouches between your lip and gum - you can then move it a bit to ensure it parks comfortably. When pouch no longer has any release, you can dispose of the pouch in the trash. On! nicotine pouches are available in stores, but can also be purchased directly on Nicokick.
An Overview of ZYN Nicotine Pouches
ZYN nicotine pouches are created using tobacco-derived nicotine salt and other chemically processed ingredients. ZYN's pouches are extremely easy to use and available in ten different flavors: Cinnamon, Citrus, Coffee, Menthol, Mint, Peppermint, Spearmint, Smooth, Chill, and Wintergreen. ZYN only has two strength options though: either 3mg and 6mg of nicotine per pouch.

You can buy ZYN pouches on Nicokick, where you will find great offers and a variety of additional nicotine-related products. Each ZYN nicotine can contains 15 pouches and ZYN pouches can be purchased by the can or in multipacks, which give you more options.
Reviewing On! Vs ZYN Side by Side
Now you have got the basic information you need about each brand, here is a quick recap:
ON! Nicotine Pouches
Flavors: Wintergreen, Cinnamon, Coffee, Berry, Citrus, Mint, Regular

Strengths: 2mg, 4mg, 6mg and 8mg

Pouches per can: 20
ZYN Nicotine Pouches
Flavors: Cinnamon, Citrus, Coffee, Menthol, Mint, Peppermint, Spearmint, Chill, Smooth, Wintergreen

Strengths: 3mg, 6mg

Pouches per can: 15
The verdict is simple. If you want a bigger range of flavor options, consider ZYN. However, if you are looking for a bigger range of nicotine-strength options or more pouches per can, consider On!
Reviewing On! Vs ZYN Side by Side
Some of the biggest differences are in how long the pouch is effective for, the flavors available and the strengths the brands have to offer.
How Long the Pouches Last. Most On! customer tend to use the pouches effectively for up to 30 minutes, however ZYNs are known to have longer lasting effects - lasting up to 60 minutes (or twice as long).
Flavors. There are around 6 variations of different On! flavors, so the selection is more limited than the selection of 8 ZYN nicotine pouches. Both brands offer classic mint options, such as wintergreen, as well as cinnamon, citrus and coffee flavors. However, On! offers a Berry flavor in their assortment unlike ZYN.
Strengths. ZYN pouches are available in two nicotine strengths - 3mg and 6mg. The nicotine strength range of On! is definitely more vast, with 3 different options of strengths to pick from.
On! Vs ZYN: Top Products
If you are an adult nicotine consumer who wants to try review On! Vs ZYN for yourself, here are the top 3 products from each brand (as rated by Nicokick customers):
On! Top 3 Flavors
The top 3 On! Flavors that you can buy on Nicokick are:
On! Wintergreen

On! Berry

On! Coffee
ZYN Top 3 Products
The top 3 ZYN flavors you can buy on Nicokick are:
ZYN Wintergreen

ZYN Citrus

ZYN Cinnamon
On! Vs ZYN vs VELO: Comparing Other Brands
If you are a reader of our Pouch Perfect blog, you may be wondering how these three popular brands compare to eachother:
| | | | |
| --- | --- | --- | --- |
| | On! | ZYN | VELO |
| Number of Flavor Varieties | 7 | 10 | 10 |
| Nicotine Strength Options | 3 (2mg,4mg, 8mg) | 2 (3mg, 6mg) | 3 (2mg, 4mg, 7mg) |
| Number of Pouches Per Can | 20 | 15 | 20 |
| Bestselling Product on Nicokick | On! Wintergreen 4mg | ZYN Wintergreen 6mg | VELO Max Dragon Fruit 7mg |
---