What is ZYN & How to Use ZYN Pouches

Trying ZYN for the first time, or curious what ZYN is all about? Read our beginners guide to ZYN!
Trying ZYN for the first time? If you're just recently learning about what nicotine pouches are or are wondering "what are nicotine pouches?", don't worry, because you're far from alone. Learn all you need to know about ZYN: what it is, how to use ZYN, what is inside ZYN and all the other info you need to know!



What is ZYN?
ZYN nicotine pouches and lozenges are a new category of tobacco leaf-free products in the United States. With eight different flavors, two unflavored pouches and two strengths - there is a ZYN pouch for everyone.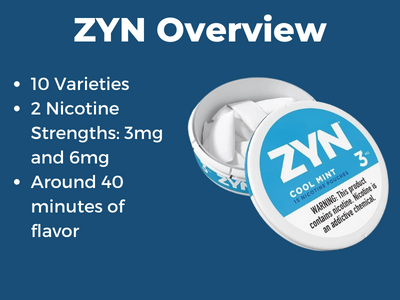 ZYN Pouches Overview
- 8 flavour and 2 flavor free options

- 3mg and 6mg nicotine strengths

- Discreet, slim pouch

- Dry nicotine pouches

- 15 pouches per can
Inside a ZYN Tin
What does a ZYN tin contain? Each can has 15 slim and discreet ZYNs. These pouches are all white pouches, made with nicotine that is derived from tobacco.
Each pouch is quite dry to the touch, meaning it is less inclined to drip or slip while you use them and have them parked. Unlike european cans of ZYN, there is no catch lid for your used pouches - so you should either dispose of them in the trash or keep a spare empty can around you can use for storage of old pouches.
How Does ZYN Work?
Like other nicotine pouches, ZYN is designed to fit between the upper lip and gum. The nicotine is then absorbed through the mucous membrane (lining in the mouth) directly into the bloodstream.



What is inside ZYN pouches?
ZYN pouches ingredients include tobacco-derived nicotine salt and other food-grade ingredients, such as pH adjusters, sweeteners, flavorings, fillers and stabilizers.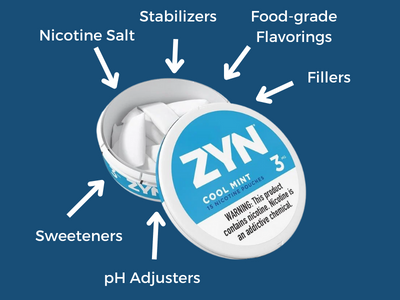 ZYN Flavors
ZYN pouches come in 10 different varieties, with all ZYN flavors listed below:
- ZYN Wintergreen

- ZYN Cool Mint

- ZYN Spearmint

- ZYN Peppermint

- ZYN Menthol

- ZYN Citrus

- ZYN Coffee

- ZYN Cinnamon

- ZYN Smooth

- ZYN Chill
ZYN Mint Flavors

There are five mint flavors: Wintergreen, Cool Mint, Spearmint, Peppermint and Menthol. Each mint flavor brings a different mint flavor - spiced, sweet, chilling, refreshing.



Unique ZYN Flavors
There are also three other ZYN flavors: Citrus, Coffee and Cinnamon. These flavors are perfect for pouch users who like flavor, but are not mint a mint lover.



Unflavored ZYN Pouches
Prefer an unflavored nicotine experience? Try either ZYN Chill or ZYN Smooth. Unflavored nicotine pouches are made for a subtle and smooth nicotine experience - they do not contain sweeteners or flavorings, which means the focus is solely on the nicotine experience. Visit our guide to find out more about ZYN Chill vs Smooth.



ZYN Strengths
The entire ZYN catalogue is available in both 3mg and 6mg nicotine strengths. The most popular ZYN strength is ZYN 6mg - the strongest of their range, but still suitable for everyday use. Just starting out with pouches? Try ZYN 3mg!
How to Use ZYN
There are 4 steps to using ZYN:
Step One
A first-of-its-kind in the tobacco leaf-free nicotine industry, every ZYN can is safely manufactured and sold with a child-resistant lid. In order to open the lid, you must first break the seal on the side of the can. To do so, simply pull on the perforated plastic seal and it will start unraveling from around the can.
Step Two
Twist the lid in the same direction as the pointed arrows that are printed on the can. While you're twisting the lid, gently lift it at the same time and you will find your brand new 15 pouches inside.
Step Three
Now that you've popped open the lid, it's time to see how your new nicotine pouches taste! Each ZYN flavor comes in two strengths, 3mg and 6mg, so you can customize how intense you want your nicotine experience to be. When you're ready, place your chosen pouch(es) between your gums and upper lips and let it sit for up to an hour. If you're in the mood, you can also mix two flavors like, peppermint and wintergreen for a big burst of flavor. The best part about these pouches is that you can use them discreetly, almost anywhere you're headed, and on your own terms.
Step Four
When you're finished enjoying your nicotine kick, it's important to dispose of your pouches responsibly. In other words, throw it in the trash. Because the materials used to create ZYN pouches are the same as in teabags, it would take a very long time for the pouches to decompose. For that reason, it's important that you do not throw the pouches in the compost, toilet, or anywhere else aside from a garbage can.
ZYN nicotine pouches were created to be an alternative to traditional cigarette smoking. They are smoke-, spit- and odor-free, which ultimately helps the planet in more ways than one. This is another reason why disposing of the pouches properly is really critical.
Can I Swallow ZYN Nicotine Pouches?
One question that is often asked when you first learn about ZYN is "can you swallow the spit from ZYN?" No matter how you ask the question, the answer still seems to be the same every time - you can swallow your saliva while using ZYNs, but you should avoid swallowing the ZYN pouch itself.
Is ZYN Bad for You?
If you are wondering is ZYN bad for you, it requires the same considerations as other nicotine pouches. It is important to remember that nicotine pouches contain nicotine - an addictive substance that can be hard to quit.
Where to Buy ZYN Nicotine Pouches
You can get ZYN in convenience stores and gas stations, but if you are looking for the best and most convenient way to secure your ZYNs, you should buy ZYN pouches online. Find the best deals and earn ZYN rewards points with each can purchased on Nicokick!

Shop all nicotine pouches on Nicokick today for fast shipping to your door and secure top deals on all your favorite flavors and brands.
---
ZYN FAQ
ZYN is owned by British American Tobacco (BAT).

ZYN is a recreational nicotine product.

ZYN pouches are similar to other nicotine pouches: they contain nicotine, which is addictive and can be hard to quit. Read our full guide about "

Is ZYN Bad for You?

"

There are 4 steps to use ZYN.

1. Open can

2. Place pouch between your gum and lip

3. Leave for up to 40 minutes

4. Remove the pouch and dispose of it responsibly