FRE Nicotine Pouches Review (2023)
FRE are rapidly growing in popularity, with their range of strong nicotine pouches that range all the way up to 15mg per pouch. FRE understands that many people are looking for alternatives to traditional tobacco products, so they created products for people who want quality as well as quantity.
But what really is FRE nicotine pouches all about? Discover the full FRE range with our flavor review, strength guide, and our favorite FRE products you should try!
FRE Overview:
4 Flavor Options

3 nicotine strength options

All-white/tobacco-leaf free

20 nicotine pouches per can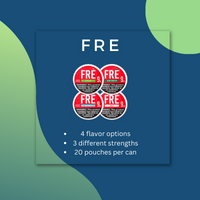 FRE Flavors
FRE nicotine pouches come in 4 unique flavors:
FRE Wintergreen

FRE Sweet

FRE Lush

FRE Mint
FRE Pouches Review: Top 4 Flavors Ranked
We give you the lowdown on Nicokick's favorite FRE synthetic nicotine pouches.
1. FRE Sweet
Top of our list is FRE Sweet: a completely unique pouch. It has a gentle sweet taste, like icing sugar but contains no sugar and are considered unflavored nicotine pouches. The aroma you get when you open the can is very subtle, as you would expect for an unflavored pouch, and gives sweet notes. The flavor matches with the aroma: subtle but sweet.
2. FRE Wintergreen
A close second are the FRE Wintergreen pouches. They have a distinct wintergreen aroma and flavor, but these pouches are definitely a slightly sweeter wintergreen flavor compared to other wintergreen nicotine pouches. The pouches are soft and are slim for a comfortable fit.
3. FRE Lush
One of the other unique pouch flavors in the FRE range, FRE Lush has a melon and citrus flavor combination. The aroma greets you as you open the can, and is similar to how the flavor tastes. Each of the FRE Lush nicotine pouches has a soft cantaloupe melon flavor, which is a unique twist on the classic nicotine pouch flavor list.
4. FRE Mint
While there are many mint-flavored nicotine pouches, the FRE Mint has a different flavor profile to most. Each of these pouches are midway between soft and dry and give a cooling sensation when you park it. The flavor is primarily peppermint, but you also have a light sweetness which adds a new layer to the flavor.
FRE Nicotine Pouch Strengths
FRE nicotine pouches are much stronger compared to the majority of all other nicotine pouch brands (such as ZYN) - so are not recommended for anyone new to nicotine pouches. All the FRE flavors come in three different nicotine strengths: 9mg, 12mg and 15mg per pouch.
FRE Nicotine Pouch Ingredients
FRE nicotine pouches are made with a foundation of:
Cellulose (a plant-based fibre used in making the pouch)

Water

Xylitol (a sweetener, often used in place of sugar)

Flavoring

Nicotine (non-tobacco derived)

Gum arabic (a thickening agent that gives the pouch its texture)



FRE Nicotine Pouch Prices
Prices for a can of FRE nicotine pouches start at around $3 a can. You can buy your favorite cans individually, or save by buying in 10, 25 or 50 can packs on Nicokick. Buy FRE nicotine pouches on Nicokick with fast shipping, and competitive prices, plus we ship to almost every state in the U.S.
---
Buy FRE Nicotine Pouches on Nicokick