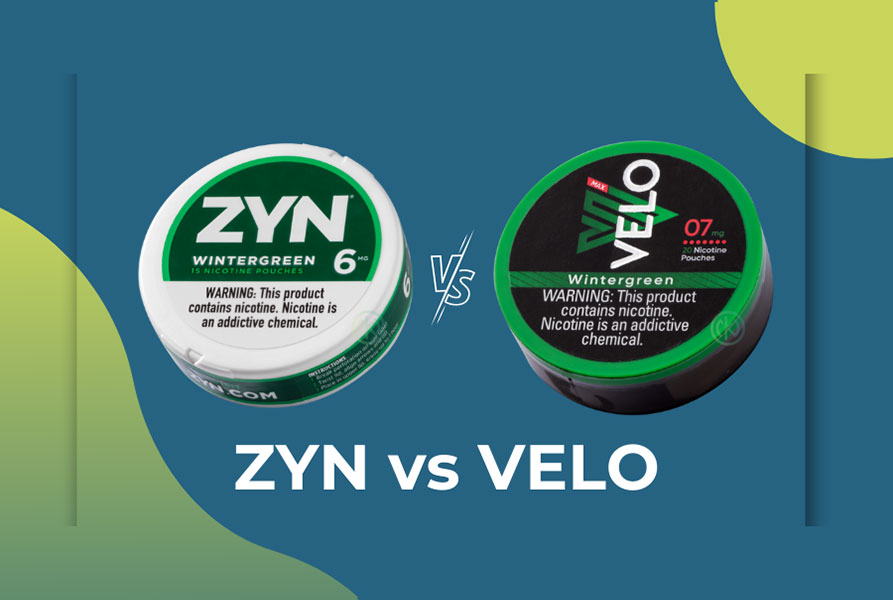 VELO vs ZYN
VELO and ZYN are two of the most popular nicotine pouch brands in the U.S., both offering tobacco-leaf free nicotine pouches - but what are the differences between them? How do you choose between VELO vs ZYN to find the right brand for you? Our expert team will compare and review based on five main factors: flavors, strengths, ingredients, price and overall experience.
VELO vs ZYN: Flavors
When comparing VELO vs ZYN on flavor, they start on a tie - with both offering 10 different flavors in their range of U.S. pouches, including a selection of mints, citrus, coffee and cinnamon flavored nicotine pouches. The main differences lie in the diversity of flavors in the range and which strengths you can get each flavor in.
The ZYN flavor range has some more traditional nicotine pouch flavors with their smooth, chill, and menthol flavors. However, VELO has devled more towards unique fruit flavors, like dragon fruit and black cherry.
Each flavor in the ZYN range can be bought in either a 3mg or 6mg nicotine strength, compared to the VELO flavors which can only be bought in certain strengths (i.e. VELO Citrus can only be bought in a 2mg and 4mg nicotine strength, but VELO Wintergreen can be found in a 2mg, 4mg and 7mg nicotine strength option).
Overview: VELO's range of flavors are better for bold fruit-flavored pouch users, whereas the ZYN flavor range is catered more to pouch users who like classic nicotine pouch flavors.
VELO vs ZYN: Nicotine Strength Options
Both VELO vs ZYN have a different set of strengths available. As we have mentioned before, all ZYN pouches come in 2 nicotine strength options: 3mg or 6mg. Each round can of ZYN contains 15 pouches of either a 3mg or 6mg nicotine strength, so there are enough pouches to take on the move with you.

In comparison, the VELO range has a slightly wider range of options, with three different nicotine strength options: 2mg, 4mg and 7mg. There are also two types of VELO can, which changes with the nicotine strength, flavor and changes the number of pouches you get per tin. VELO oval tins contain 15 nicotine pouches and this particular tin is used for VELO Citrus (2mg and 4mg) and VELO Mint (2mg and 4mg). VELO circular tins contain 20 nicotine pouches and are used for all of the other VELO flavors and nicotine strengths.
Overview: The best strength in the VELO vs ZYN debate will depend on your strength preferences. If you want the strongest pouch, VELO has a maximum of 7mg in their range vs. ZYN with 6mg, but if you want the least intense strength option then VELO has 2mg options vs ZYN with 3mg as the lowest strength option.
However, the fact that all ZYN flavors are available in the full range of strengths gives them a bonus!
VELO vs ZYN: Ingredients
The ingredients in most nicotine pouches are relatively similar, but how does it look for ZYN vs VELO?
While both VELO and ZYN contain food quality ingredients, there are some differences in their ingredients lists.
ZYN ingredients: nicotine salt (nicotine bitartrate dihydrate), hydroxypropyl cellulose, micro crystalline cellulose, maltitol, gum arabic, sodium carbonate, sodium bicarbonate, acesulfame K, and food-grade flavorings.
VELO ingredients: nicotine derived from the tobacco plant, microcrystalline cellulose, water, salt, sucralose, citric acid, and artificial flavor.

(VELO pouches that come in cans): nicotine derived from the tobacco plant, maltitol, modified cellulose, sodium carbonates, acesulfame K, and artificial flavor.
Overview: The ingredients are relatively similar, so there is not much difference. Both VELO and ZYN offer a drier pouch that is sugar-free and tobacco-leaf free, and are both very similar.
VELO vs ZYN: Price
Currently, as we write this article, there are some slight differences in price when you compare VELO and ZYN. ZYN prices currently start at $3.73 per can, but VELO prices start at $4.79 per can - so the difference is around $1 (before state and excise taxes).

Overview: So, which is cheaper, VELO or ZYN? Which is cheaper can change depending on several factors including how many cans you buy and what deals are available (so make sure to check out our Nicokick deals when you buy ZYN nicotine pouches or buy VELO nicotine pouches online!)
VELO vs ZYN: Overall Experience
If we first look at the VELO experience, I found personally that these pouches give around 30 minutes of flavor and are quite dry to the touch (but do soften up when you park them). They are a slim pouch fit, for a comfortable experience and have a consistent release of flavor and nicotine throughout.
ZYN has a strong aroma when you open the can and has a similar flavor released throughout using the pouch. Each pouch, like VELO pouches, are on the drier side but are compact for comfort. When testing the ZYN pouches, I personally found that these pouches released flavor for about 35 minutes or so.

Overview: Both VELO and ZYN have a range of dry pouches, give consistent release and park comfortably. The factor that you will need to think about is what flavor you want consistently released!
VELO vs ZYN: Final Thoughts
There are some slight differences between VELO and ZYN nicotine pouches, but overall the experience is quite similar.
So when you are trying to work out which pouches are best for you, consider what strength and what flavor pouch you like best - that will then tell you whether ZYN or VELO are the best nicotine pouches for you.

Still not sure you have found the right pouch? Check out our guide to On! vs ZYN and our other comparison guides in our blog!
---
VELO vs ZYN: Frequently Asked Questions
If you like fruitier flavors and a bigger range of nicotine strength, VELO is a better choice than ZYN.

There are several differences between ZYN and VELO including nicotine strength options, flavor choices and price.

On Nicokick, ZYN cans are cheaper. ZYN prices currently start at $j3.83 per can, whereas VELO prices start at $4.69 per can.

Yes, both VELO and ZYN pouches are sugar-free.