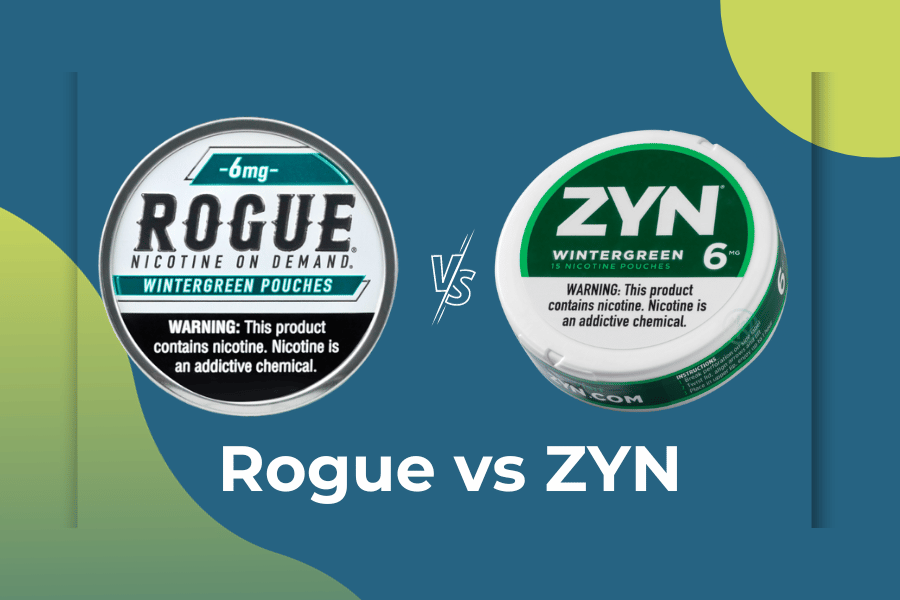 Rogue vs ZYN
Rogue or ZYN: both brands offer a range of tobacco-leaf free nicotine pouches that are tailored to the US market. But how do you decide between Rogue nicotine pouches vs ZYN? Our expert team will compare and review these two top brands, looking at flavors, strengths, ingredients, price, and then an overall review.
Rogue vs ZYN: Flavors
Starting off with flavor, both of them are tied on this category - with both offering 10 different flavors, including a selection of mints, citrus and cinnamon flavored nicotine pouches. All flavors in both the Rogur or ZYN range can be bought in either a 3mg or 6mg nicotine strength, putting them on an even score.
Where the differences between Rogue vs ZYN flavors is in the range of flavors: ZYN focuses more on a classic, single flavor range whereas Rogue has some unique flavor combinations (such as Apple and Honey Lemon).

Overview: ZYN flavors are focused on single flavor pouches and are more traditional, whereas Rogue flavors branch out and offer some more unique flavor combinations alongside popular classics.
Rogue vs ZYN: Nicotine Strength Options
Again, when looking at Rogue vs ZYN in terms of nicotine strengths they both get an even score. Both Rogue and ZYN offer their full flavor range in two of the most popular nicotine pouch strengths: 3mg and 6mg.
Overview: The winner in this category of the Rogue nicotine pouches vs ZYN debate will depend on your personal preferences on nicotine strength. Both offer a 3mg and 6mg of nicotine per pouch option, and have both strength options available for all their flavors.

Rogue vs ZYN: Ingredients
While ingredients in nicotine pouches tend to look quite similar, how do the full ingredients lists of Rogue pouches vs ZYN look? Even though both Rogue and ZYN ingredients are ok for oral use, there are some differences in their ingredients lists.
ZYN Ingredients: nicotine salt (nicotine bitartrate dihydrate), hydroxypropyl cellulose, micro crystalline cellulose, maltitol, gum arabic, sodium carbonate, sodium bicarbonate, acesulfame K, and food-grade flavorings.
Rogue Ingredients: nicotine polacrilex, other inactive food grade ingredients (added for flavor and texture) and Acesulfame K (a sweetener).
Overview: The ingredients are relatively similar when looking at Rogue pouches vs ZYN, so there is not much difference. Both Rogue and ZYN offer a drier pouch that is both sugar free and tobacco-leaf free, so they are a lot of similarities.

Rogue vs ZYN: Price
At the time of writing this article, there are some slight differences in price when choosing between Rogue or ZYN. ZYN prices currently start at $3.83 per can and Rogue prices currently start at $4.69 per can. The price difference between Rogue vs ZYN is a bit under $1 (before state and excise taxes).
Overview: ZYN prices are currently lower than Rogue prices on Nicokick, without factoring in excise and sales taxes. However, which is cheaper can change depending on several factors including how many cans you buy and what deals are available.
Rogue vs ZYN: Overall
Looking at the Rogue overall experience first, these pouches are on the larger side and give around 45 minutes of flavor release. These pouches are quite soft to the touch, but they do park comfortably and don't slide. Rogue pouches are on the larger size for a nicotine pouch, but they do fit comfortably under the lip and Rogue pouches have a consistent release of flavor and nicotine throughout.

To compare it to ZYN: ZYN has a strong aroma when you open the can and the flavor released throughout using the pouch is similar to the aroma. Each pouch, unlike Rogue nicotine pouches, are drier and slimmer. The flavor release lasts about 35 minutes or so when parked, which is not quite as long as the average release time you get from a Rogue nicotine pouch.

Overview: ZYN is like most US pouches - giving a slim, drier pouch (as you will see when comparing On! vs ZYN or VELO vs ZYN). However, both pouches give consistent release and park comfortably.
When choosing between Rogue vs ZYN, the biggest factors you will need to consider is what flavor you want consistently released!

Where to Buy ZYN and Rogue

Whether you decide you want to shop ZYN or shop Rogue, Nicokick has the full Rogue and ZYN assortments to choose from!
You can see nicotine pouches from all brands and order on Nicokick, with a range of options from ZYN, Rogue, NIC-S and Juice Head that can be delivered to your door. Make the most of our fast shipping options and get your favorite nicotine products without leaving the house!
---