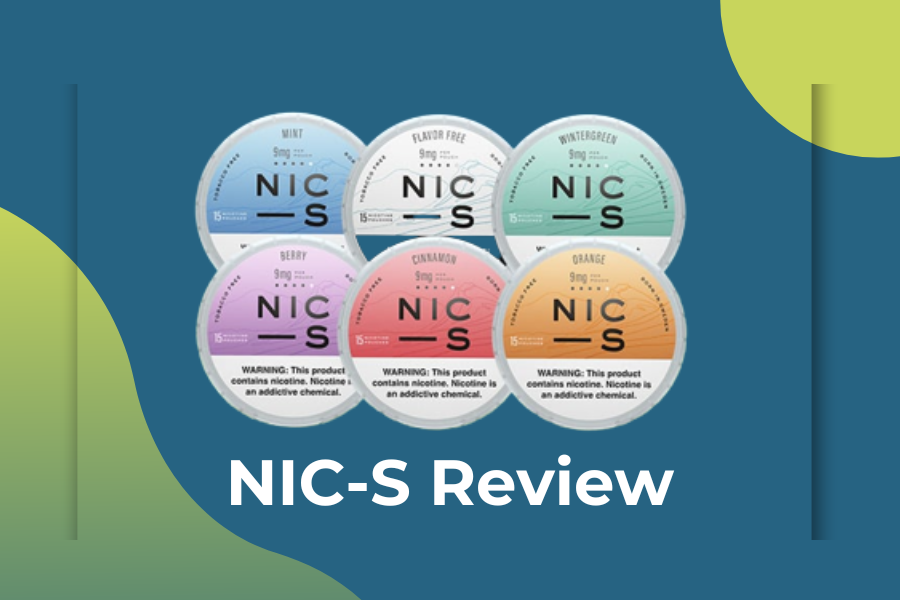 NIC-S Review
What is NIC-S? Discover the NIC-S brand with our full review of NIC-S pouches. We discuss the entire catalogue of flavours and strengths, as well as rank our favorites at Nicokick!
What is NIC-S?
NIC-S (pronounced "nicks" or "nix") are a range of nicotine pouches exclusively developed in Scandinavia - known for being at the forefront of alternative nicotine products as well as being the home of the nicotine pouch. They are driven by the idea of a smoke-free society and aim to provide "realistic, 100% tobacco leaf-free, alternative to conventional nicotine products."
NIC-S Overview:
6 flavor options

3 different strengths

15 pouches per can

Developed in Sweden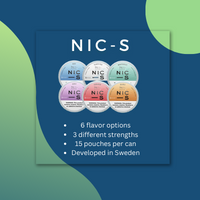 NIC-S Flavors
There are 6 different flavors of NIC-S pouches:
Wintergreen

Cinnamon

Mint

Orange

Berry

Flavor Free
NIC-S Review: Our Top Flavors Ranked
Not sure where to start? We ranked and reviewed our favorite NIC-S flavors at Nicokick.
1. NIC-S Wintergreen
This flavor was designed to brighten the Swedish winter nights - and it certainly does that! Each pouch has an invigorating and refreshing flavor punch with a unique sensation of earthy mint. These pouches have a smooth feel (probably down to their premium S-type nicotine and added moisture enhancers) and a slim fit under the lip.
When you open the can, you are greeted by a gentle wintergreen aroma, which is classically minty but with a soft sweet note. Once you park your pouch, you are immediately hit by the wintergreen flavor - it is just the right level of flavor to enhance your nicotine experience without overpowering it. On average, each NIC-S wintergreen lasts around 40 minutes, making it one of the longer-lasting pouches on the market.
2. NIC-S Orange
The NIC-S Sweet Orange pouch is a celebration of that sweet, and a little bit sour, summer time, where the days are long but the time flies. Opening the can, you are greeted by the classic orange scent with a slight undercurrent of lemon (giving it that sweet yet tart flavor). Each pouch is slim and compact, so they fit nicely under the lip. The flavor is balanced with the nicotine and has a pretty sweet orange presence, with the lemon tang becoming more noticeable over time. The flavor of these pouches is not artificial, making a refreshing change from some of the overpowering orange flavors you can find. These pouches last around 45 minutes, and give a consistent flavor and nicotine experience throughout.
3. NIC-S Berry
While Berry might seem like an average flavor, NIC-S put their unique Scandinavian twist on it to add a whole new dimension. They incorporated the experience of enjoying a fistful of delicious blueberries, raspberries and even lingonberries from the Swedish forests - giving a mixed berry flavor the way Mother Nature intended. As you open the can, you are met by a subtle, slightly sweet berry flavor that really highlights the raspberry and blackberry combo. These small, soft pouches fit perfectly under your lip for a comfortable experience. From the moment you park the pouch, the raspberry and blackberry notes are present with a slight hint of the cranberry-like flavor of Swedish lingon. The flavor is balanced yet sweet, and lasts around 40 minutes: a perfect pouch for those who want an elevated berry pouch.
4. NIC-S Mint
Mint: a classic. This flavor was designed to recreate the feeling you get from the chilling breeze from the Scandinavian mountains, and it does not disappoint. The aroma is peppermint, as is the flavor, which is why these pouches have that chilling flavor experience. There is a light sweetness to the mint, noticeable from when you park the soft portion pouches. While the peppermint gives its trademark mint sharpness, it is balanced with sweetness and the nicotine for a real mint pouch experience. We find these pouches last around 40 minutes, giving full flavor and nicotine consistently throughout.
5. NIC-S Cinnamon
If you aren't convinced by mint or fruit pouches, let me guide you towards NIC-S Cinnamon pouches! A comforting, familiar flavor that packs a spiced punch. From the moment you open the can, you are met by the warm spiced flavor of cinnamon - giving that lightly sweet but still spicy aroma you often associate with baked goods. Each pouch is soft and small, for a slim and comfortable fit under your lip. When you park your pouch, you will slowly start to feel the warm feeling of cinnamon that has been perfectly measured to avoid an overly spicy or artificial flavor experience. The nicotine and flavor work together for a smooth experience that lasts around 45 minutes.
6. NIC-S Flavor Free
These pouches give an unfiltered, simple nicotine experience and offer a great alternative if you are not keen on flavored nicotine pouches (or if you cannot get hold of them). These pouches are subtle and smooth, giving an experience where you can focus solely on the nicotine. While there is a slight taste and smell due to the fibers and contents used to make the pouch, it is not super noticeable. The nicotine gives a soft hit, and the silky feel of the slim pouches really adds to the experience. NIC-S flavor-free pouches last around 40 minutes and give sustained impact throughout.
NIC-S Strengths
All of the NIC-S range come in three different nicotine strength options:
3mg/pouch: This is the lowest strength you can find in the NIC-S range, and is on the less intense end of the strength spectrum. If you are unsure about the strength you need, these are good for people who are new to nicotine pouches.
6mg/pouch: The most popular strength of nicotine pouch, 6mg is a popular choice for people who use pouches daily.
9mg/pouch: The strongest of the NIC-S range, these are for more advanced pouch users.
What Makes NIC-S Unique?
NIC-S are uniquely Scandinavian, focusing on creating quality products that are sustainable - without compromising on the experience.
S-type Nicotine. Each pouch contains S-type nicotine: a NIC-S pouches are made with 100% synthetic nicotine rather than tobacco-derived nicotine commonly found in other nicotine pouches. Synthetic nicotine pouches can have two types of nicotine molecules: R & S: NIC-S only uses the S type molecules for a more premium offering.
Pine Resin Cans. NIC-S discreet cans are made with ISCC+ Certified Pine Resin, making their cans different from most plastic cans, as they are replacing plastic with an alternative material. They also have the added bonus of having a pouch disposal compartment - super handy when you take your pouches on the go!
Balanced flavors. Each pouch has been carefully crafted to enhance, not overpower, the nicotine experience and has been developed to Swedish standards.



NIC-S Prices
NIC-S pouches come in cans of 15 pouches, and each can is available for a limited-time offer of $2.99 (pre-sales and excise tax). You can buy NIC-S nicotine pouches in individual cans, or in multipacks to make sure you always have your new favorite pouches on hand.
---
Buy NIC-S Pouches on Nicokick