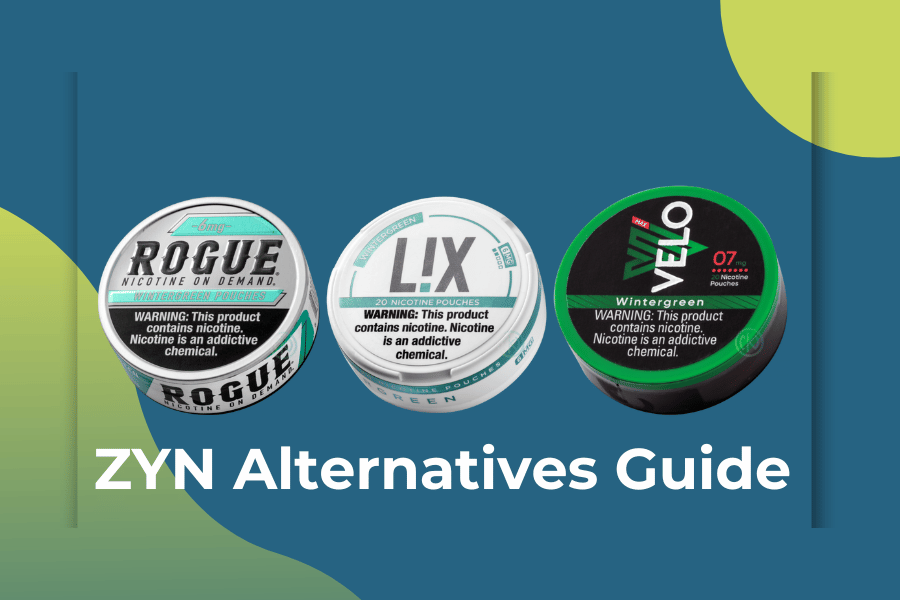 ZYN pouches are the most popular of all tobacco-free nicotine pouches in the US, with over 173.9 million ZYN cans being distributed across the US in 2021 alone. While ZYN offer a great range of pouches, there are other alternatives to ZYN that match up and even outperform in certain areas. We walk you through the top 4 brands that offer alternatives to ZYN and help you find your perfect pouch!
Brands Like ZYN: Top 4 Alternatives to ZYN

1. Rogue
There are several brands that offer a similar dry pouch experience, but the closest brand match to ZYN is Rogue. Both brands offer a 2 nicotine strengths made to suit the American consumer (3mg and 6mg) and have a range of flavors catered to the American taste palette. ZYN and Rogue both have 10 different flavors in their selection including classic mints, wintergreen and citrus'.
Similarities:
Flavor range

Nicotine strength options
Differences:
Pouch size (Rogue has a larger pouch size, compared to ZYN's slim pouches)
2. VELO
VELO is another good alternative to ZYN. VELO also has a range of dry pouches that are slim in format, however VELO has more nicotine strength options and a more unique set of flavors. When comparing VELO vs ZYN, both give consistent release and park comfortably, but VELO's range of flavors focuses more on the bold fruit flavored pouch users compared to the ZYN flavor range that caters to users who prefer classic nicotine pouch flavors.
Similarities:
Differences:
Flavor range

Nicotine Strengths (3mg and 6mg options vs 2mg, 4mg and 7mg options)
3. On!
Another well known brand that offers a popular alternative to ZYN is On!
Their range of nicotine pouches also cater to fans of classic flavors, and their entire flavor range is available no matter which strength you choose (much like ZYN). If you compare On! vs ZYN, ZYN do have a slightly longer average release time. However, if taste and strength are the ultimate deciding factors when picking a pouch, then we recommend giving On! nicotine pouches a shot given that they also have a wide variety of flavors and the strength level can go up to 8 mg.
Similarities:
Differences:
More nicotine strength options (3mg and 6mg vs 2mg, 4mg and 8mg)

More pouches per can (15 vs 20 pouches per can)
4. L!X
A relative new comer to the nicotine pouch space, L!X offer a refreshing alternative to ZYN. Compared to ZYN, these pouches come in a range of classic flavors (including mints and fruits) but they offer a softer pouch and longer lasting flavor release.
Similarities:
Flavor Range (both offer classic flavor choices)

6mg nicotine strength option
Differences:
Stronger nicotine strength options (with a 9mg nicotine strength)

Smaller flavor collection (7 flavors vs 10 flavors)
Are ZYN Pouches Better for You than Other Brands?
Whether ZYN pouches are the best option for you depends on you personal taste. Some questions you can ask yourself to help you find the right pouch are:
What nicotine strength do I prefer? This will filter out what flavors and brands are available to you. If you arent sure which strength to start with, it is best to start with a less intense strength and work your way up (rather than the other way around!) - if in doubt, start with a lower nicotine strength than you think you need or want. If you prefer a stronger pouch, there are other products that are like ZYN but offer a range of higher nicotine strengths (such as FRE).
What flavors do I like? This will decide which brands you can pick from (as not all brands offer Dragon Fruit or Cinnamon pouches). If you are more into fruit flavors, it worth shopping around fruit forward brands like Juice Head (who focus on creating only fruit flavored nicotine pouches) rather than a general brand like ZYN.
What feel do I want from my pouches? There is a whole spectrum of pouches: soft to dry, slim to large sizes. What fit you like and how soft you like your pouch to feel will impact which brand and flavors are best for you. For example, if you like a softer pouch, you should consider alternatives to ZYN such as L!X (who also offer a classic flavor range, but with a less dry pouch). If you prefer a larger pouch, you should consider shopping from the Rogue range, as they offer the same nicotine strength options and similar flavors but in a larger pouch format.
Buying ZYN Alternatives Online
Interested in trying ZYN alternatives? Find all nicotine pouch alternatives and your new favorite pouches on Nicokick! Order on Nicokick for fast shipping, great customer service and top deals on the best brands (such as Rogue, VELO and ZYN). Buy ZYN online along with other top ZYN alternatives today!