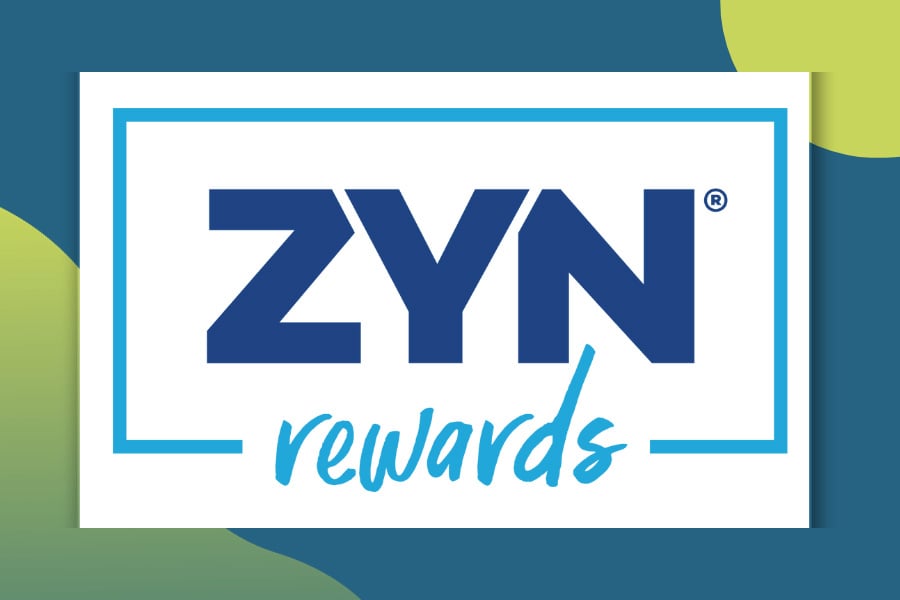 A Guide to ZYN Rewards
ZYN pouches are the most popular of all tobacco leaf-free nicotine pouches in the US, with over 173.9 million ZYN cans being distributed across the US in 2021 alone. But did you know you can make your ZYN work for you? The ZYN rewards program gives you points when you buy any of the ZYN pouches. These points can be redeemed for great prizes such as gift cards, tech items and ZYN merch.
In this guide, we walk you through some of the commonly asked questions about ZYN Rewards, including a list of the top prizes, and how to get started redeeming your ZYN Rewards.
What is the ZYN Rewards Program?
ZYN Rewards is a special rewards program where you can collect points from any ZYN pouches that indicate they are eligable for ZYN Rewards points. All ZYN pouches that are eligible will have a code on the bottom of the can you enter on the ZYN rewards site, which can then be spent on reward prizes in the ZYN Rewards store.

What Are The ZYN Rewards?
There are a range of different ZYN Rewards you can get, depending on how many points you redeem. As it is essentially a loyalty program, it is designed to reward loyal customers - so the more points you earn, the better the prizes you can redeem.

There are a range of different categories of rewards to choose from, including ZYN merch, tech items and even a range of giftcards. The top 10 most popular ZYN Rewards prizes (and how many points you need to redeem them) are:
Apple Airpods - 5630 points
Bose Noise Cancelling Headphones - 9000 points
Apple iPad - 6750 points
Ninja Plus Blender - 4400 points
Samsung Smart TV - 9000 points
Apple TV - 4620 points
Sonos Sound System - 9000 points
Air Fryer - 5060 points
Pizza Oven - 8650 points
Amazon $25 Gift Card - 825 points
ZYN Rewards List
When you earn enough points for a reward, you can redeem rewards for your points on the ZYN Rewards website for a range of different prizes - but what rewards does ZYN offer? Here is an overview of how many ZYN Rewards points you need for different prizes, and the most popular ZYN Rewards items in each category.
ZYN Gear (prizes available for between 380 and 7425 ZYN Rewards points):
T-Shirt

Beanie

Beach towel

Socks

Backpack

Coolers
Travel (prizes available for between 4620 and 9000 ZYN Rewards points):
Apple AirPods

Cabin Bag

Bose Headphones
Tech (prizes available for between 1130 points and 9200 ZYN Rewards points):
Apple iPad

Apple Watch

Samsung Smart TV

Home Projector

Sonos Sound System

Apple TV
Outdoor (prizes available for between 1035 points to 11000 ZYN Rewards points):
Grill

Golf Pong Set

Hammock

Golf Club Head Covers

Blanket
Home (prizes available for between 1310 points to 9000 ZYN Rewards points):
Nespresso Coffee Machine

Air Fryer

Ninja Blender

Pizza Oven

Global Knife Set
Gift Cards (prizes available for between 825 points to 2900 ZYN Rewards points):
Amazon Gift Cards

Cabela's Gift Cards

App Store Gift Cards

Uber Gift Cards

Airbnb Gift Cards

Opt Outside Gift Cards

Top Golf Gift Cards
How To Sign Up for ZYN Rewards
If you are a fan of ZYN and want to take advantage of this loyalty program, signing up is easier than you think. Here's a step-by-step of how to set up your ZYN Rewards login so you can start registering your points:
Go to the official ZYN Rewards page and sign up for an account.

Fill out the details it requests: this will include your name, address, email and other relevant details.

Your account has been created!
Want to start adding your ZYN Rewards points? Here is what you need to do to collect and start adding your ZYN Rewards codes:
Buy your favorite American ZYN pouches on Nicokick or other ZYN retailer.

Retrieve the special code from the bottom label of the can.

Visit the ZYN Rewards page and sign in to your account.

Follow the instructions that will appear on the screen and enter the code.

Once your points have been successfully added, your reward points will be automatically deposited into your ZYN Rewards account.

Enjoy the rewards of the ZYN Rewards program.
Do You Need to Buy the Cans Directly from ZYN to Get Rewards?
No, you can still collect ZYN rewards from the cans you buy on Nicokick. Save on all the best ZYN flavors on Nicokick while earning rewards points on each order!
How to Redeem Points for ZYN Rewards
Once you have collected points and have chosen the ZYN Reward you want, it is time to visit the ZYN Rewards store and get your prizes!
Do you want to get exclusive ZYN merchandise and discounts on nicotine pouches? With the ZYN Rewards program, you can get all these benefits. Once you have enough points, use the following steps to redeem your rewards from the ZYN Rewards store:
Log into your ZYN account.

Select the 'ZYN Rewards' option from the side menu.

Click on the item you want (make sure to check you have enough points for the item!)

Follow the on-screen instructions to complete the transaction.

Check your email inbox for a confirmation email.

Allow 4 to 6 weeks for the merch to be delivered to your address.

Keep in mind that there are certain regulations and limits associated with the rewards program.
ZYN Rewards Program Rules
As with all programs and schemes, there are rules for the ZYN Rewards program too. To make sure that you don't miss out on the chance to get those ZYN Rewards prizes you have eyed up fin the ZYN Rewards store, here is a summary of the key rules to remember:
You can only enter a maximum of 60 codes per month.

You must keep the label codes for at least 90 days after entering them - if you cannot provide proof of owning the codes you entered, ZYN is entitled to cancel those points and rewards redeemed with those points.

Your points are considered inactive if they're not used for six months, which will result in your points being forfeited and you having to recollect your points from scratch.

Any attempt to tamper or dupe the system will result in you being removed from the ZYN Rewards program.

If ZYN decide to stop the rewards program, you will be given 120 days' notice if the program is terminated. During this time, you can redeem your remaining ZYN Rewards points for rewards.

You may be liable for additional taxes on rewarded items.

If you redeem rewards worth $600 or more within a year, you will be asked to provide your Social Security Number and fill out an IRS 1099 form.
---
ZYN Rewards FAQ
You can find the ZYN codes by peeling the label on the bottom of the can, this will reveal a unique code you enter on the ZYN rewards website.

You get 15 ZYN rewards points per can once the code is redeemed (note: you can enter up to 60 codes per month). But keep an eye out, there are also chances to earn ZYN bonus points from time to time and you can also earn extra ZYN Rewards points by referring friends and sharing ZYN on social media.

ZYN points only expire if you don't redeem any codes for over 6 months.

There is currently no specified end date for the ZYN rewards program, so you can keep earning points and redeeming rewards.

If ZYN decides to end their rewards program, you will be given 120 days notice so you can redeem your final prizes during that time.